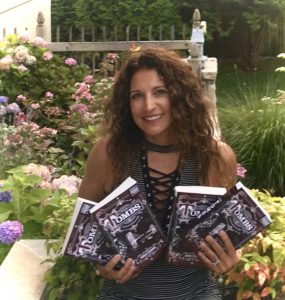 Originally from Brooklyn, I grew up renovating old houses with my family. My father and I would walk the rooms, floor-by-floor; making up stories filled with dark secrets, monsters, and of course, ghosts. I developed a love of history and fantasy, and went on to study architecture in New Orleans – a city saturated with crumbling plantations, creepy cemeteries, and tales of voodoo magic.
It was on a trek in Nepal that I imagined a girl with the ability to see energy, and I wondered, what if she could affect this energy? The seed of THE TOMBS was planted. While working as an architect, I remained faithfully buried in books, and began to write. In writing, I discovered an unparalleled outlet for my vivid and admittedly weird imagination. I love dreaming up worlds, and imagining past the confines of what real blueprints can hold.
I live with my family and two dogs in Maryland, just outside DC, I collect old bottles, and my favorite holiday is, you guessed it, Halloween. I also love to draw, especially silhouettes – in fact, I drew the illustrations for this website. Thank you for visiting!